For assistance in determining the best solution for your Smart Home application, please reach out to us a the link below
NetX Thermostat Luxury Residential Integrations
A typical smart home thermostat faces several challenges. With typical residential smart thermostats, loss of internet connectivity completely disables Home Automation HVAC control, posing a significant drawback. Because home automation functionality resides on servers, response times will be slower leading to delays in temperature adjustment and overall system performance.  If the API server is no longer supported by the company, the home automation is rendered inoperable.  Additionally, these residential thermostats only offer a simple alerting system, lacking advanced features for comprehensive monitoring. Fortunately, NetX has a Smart[er] Solution.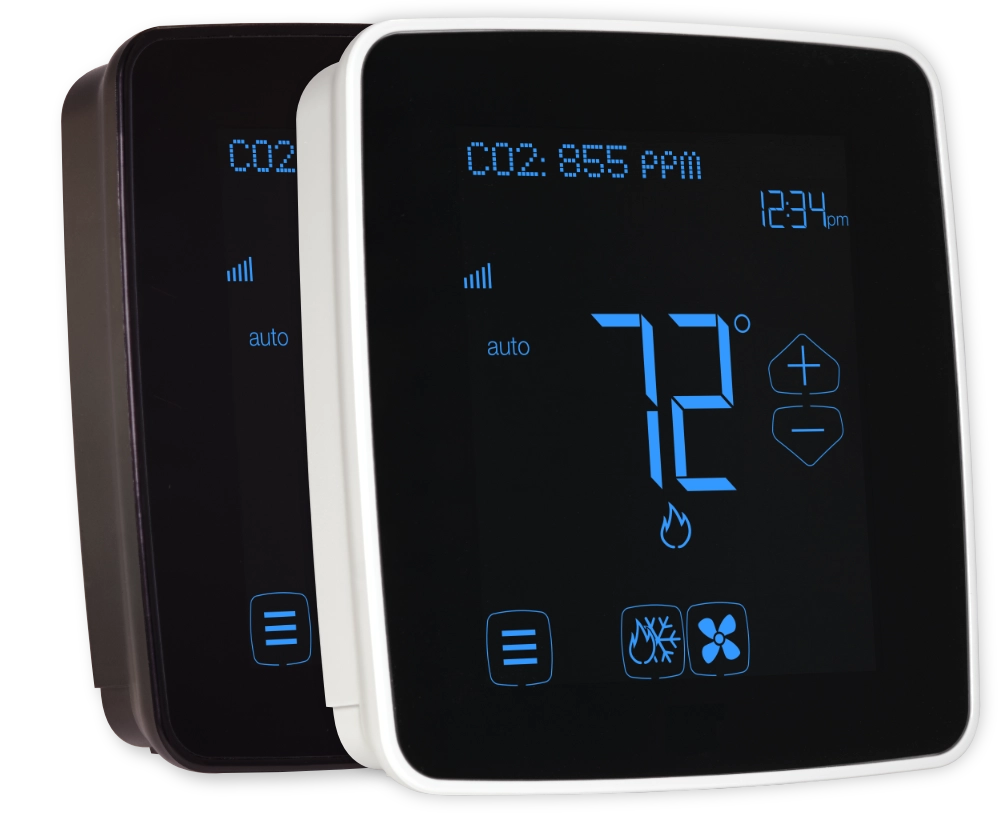 Optimized for System Integrators 
Mount in Controls Closet or in the Space
Remote Temperature and Humidity
Color Display to Match Any Decor
Proximity Detection and Automatic Brightness 
Multiple Screen Configurations; Even 'Dark' Mode for Bedrooms and theaters
Seamlessly integrate our vibrant backlit touchscreen LED display with your home decor, thanks to our automatic adjusting brightness and display modes. The intelligent auto-dimming feature effortlessly adapts to varying lighting conditions. NetX thermostats go beyond mere functionality by intuitively responding to your presence through proximity detection, and automatically activating or deactivating display modes as needed. Customize your experience with a wide selection of display colors that suit your style, while also enjoying the versatility of various modes such as Minimal, Dark, and Locked, which enhance both functionality and visual appeal.
---
Home Automation Integrations
Growing List of Home Automation Drivers
Reliable Never-Leave-The-LAN Communications
with the HA Controller
Fast Response Time
Wi-Fi and Ethernet Connectivity
Wired Remote Sensors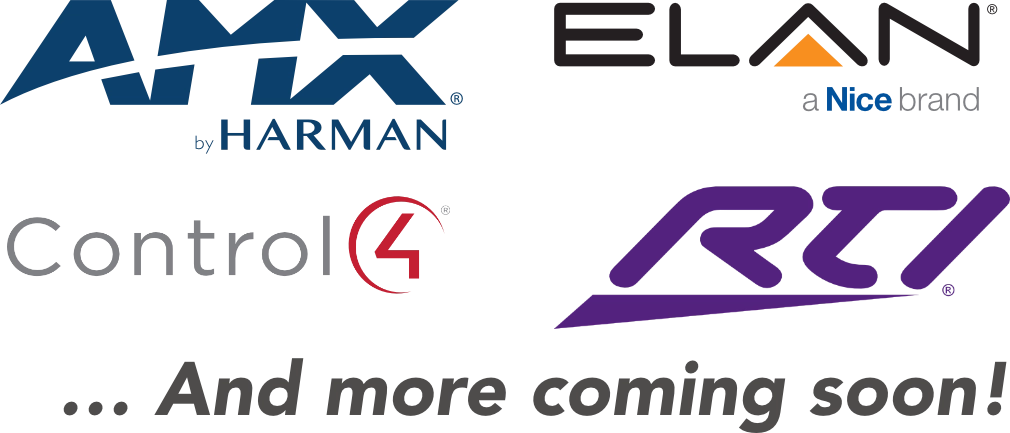 NetX has a powerful API that allows Home Automation System Integrations to any HA Controller. NetX has teamed up with manufacturers and premium third-party driver developers to seamlessly integrate the technologies, all from the LOCAL network. See our website for a list of home automation integrations and let us know if there's one you need. We are always adding more.
---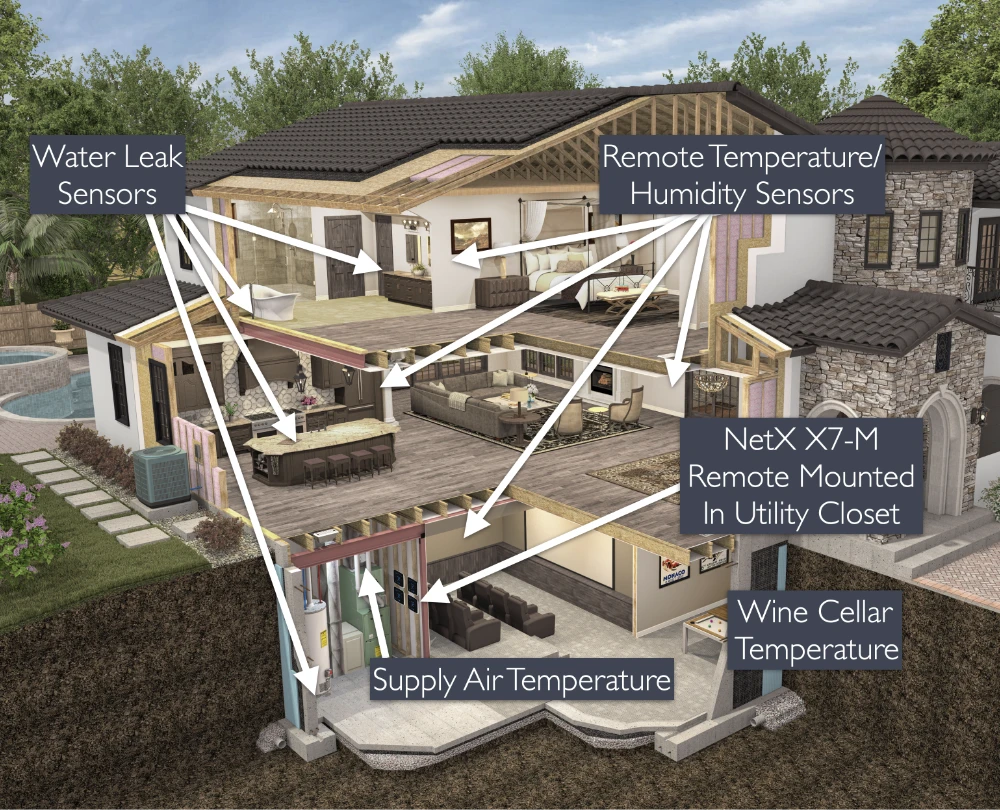 Geared for Sensing and Awareness
Multiple Temperature & Humidity Sensors
HVAC Supply Air Sensing
Wine Room & Other Non-HVAC Temperatures
Water Leaks
Occupancy and Door/Window Contacts
In addition to controlling HVAC, NetX empowers integrators and homeowners, allowing them to stay aware of other important sensing activities in the home.   NetX Remote Sensors include both wired sensor options that cover a wide range of monitoring needs. Whether through the Home Automation controls or directly from the thermostat, NetX solutions can monitor AND alert when something is awry with over 20 email/text alerts.
---
Unleashing Versatility In HVAC Management
NetX's comprehensive X-Series Wi-Fi and Ethernet thermostats can handle just about any type of HVAC system designed for a luxury residential home, including:
Conventional - Gas / Electric
Heat Pumps - Air-to-Air, Water 
Source, Add-On, Dual Fuel
Radiant Floor - Stand-Alone and
Forced-Air Hybrid
VRF / Mini-Splits - Nearly All
Manufacturers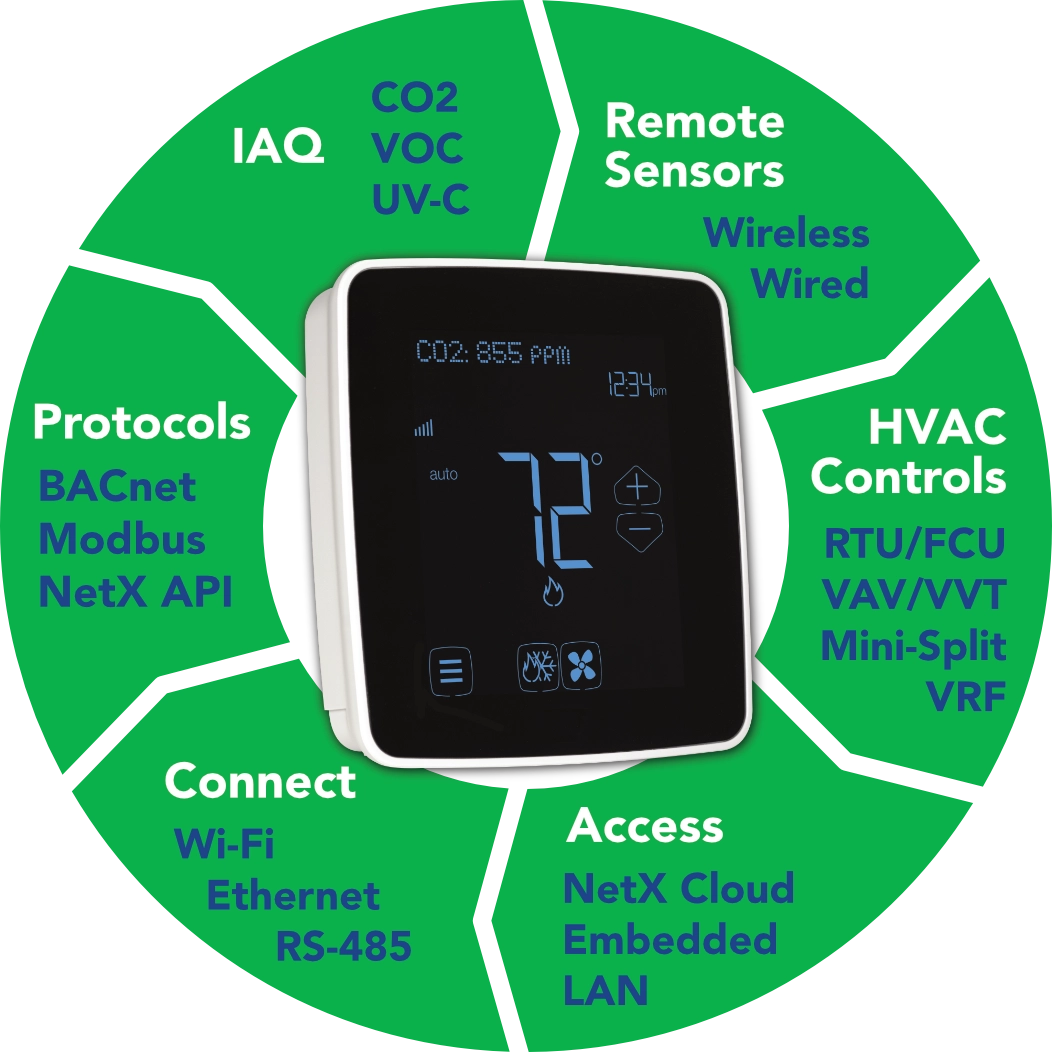 ---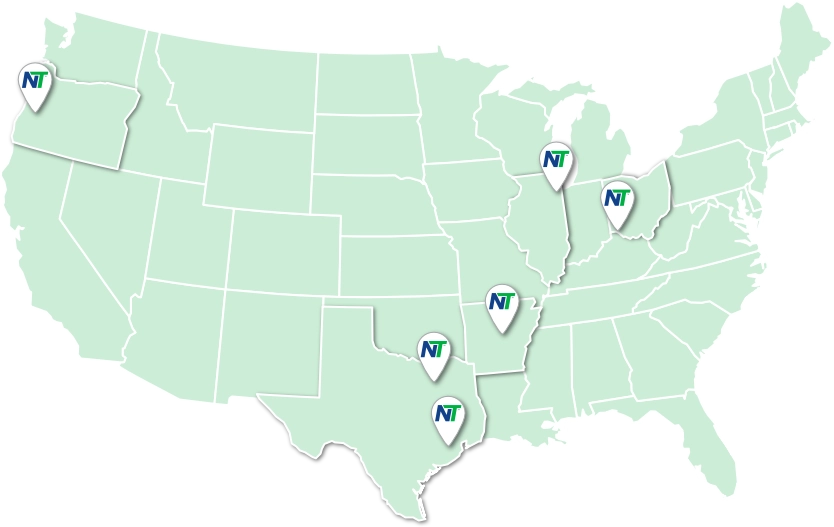 Network Thermostat Longevity & Experience
We're not new to the HVAC controls industry, we're just new to CEDIA. With thirty years (30) of experience providing communications-based thermostats to the commercial marketplace, NetX is now bringing its designs to the Luxury Residential marketplace.
USA Based
USA Designed
USA Manufactured
USA Supported
---