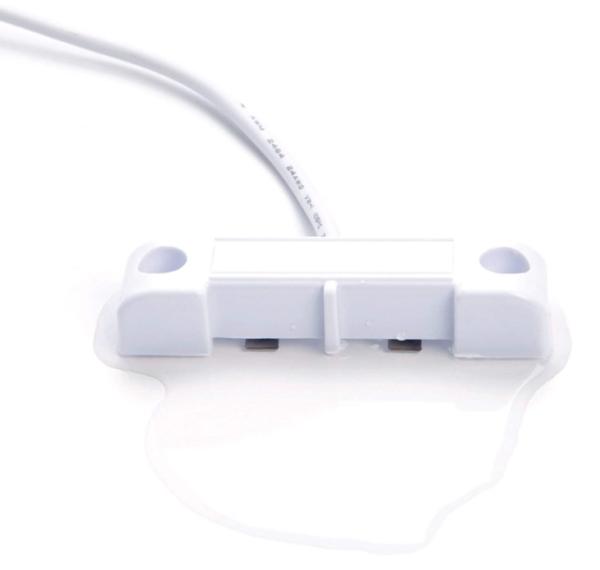 Water Leak Probe (Requires NT-URS & X5/X7 Thermostat)
Works with the NT-URS Universal Sensor
Compatible with X-Series Thermostats Only
Two Wire Connection to the Sensor
Up to Two Probes for each Sensor
6ft Cable Included
Specs

Rated Voltage:
0V to 5VDC

Terminations:
RED - Terminal 1 on NT-URS
BLACK - Terminal 2 on NT-URS

Dimensions:
2.5"L x 0.625"W x 0.55"H (64mm x 16MM x 14mm)

Maximum Probes per Sensor: 2

NT-URS Set Up:
Set to 'Water Leak' per Sensor Instructions.
Can Add up to 100ft of additional cable, as needed.
Connections are Polarity Sensitive.
Features
Description

The NetX NT-WL-H is a simple-to-install water leak sensor probe that connects to the NT-URS Universal Remote Sensor. Up to two probes can be connected using the remote input terminals.

The NT-WL-H is a horizontal mount probe with strong double stick tape for attachment to the bottom of a drip pan, and two screw holes for mounting to other surfaces.

The probe includes a 6ft cable and up to two (2) NT-WL-H probes can be connected to a single NT-URS.  

The NT-WL-H must be used in conjunction with a NetX Universal Remote Sensor and an X5 or X7 Series thermostat. 

The X5/X7 thermostat will display a warning message when a leak is detected, can be configured to turn the HVAC equipment off, and to automatically send email and SMS messages.
Related Products
Docs